Introduction
1L students compete with a partner in the First-Year Competition. A full case packet is given to all competitors and the teams of two are instructed to prepare one pre-assigned side, either prosecution or defense. Each team is assigned an individual student coach that will work with the competitors to help them develop a case theory, instruct them on the logistics of a mock trial competition, and even set up scrimmages with other teams. Student coaches are Board members who have usually taken classes in evidence and trial advocacy, or competed in external trial competitions. Tip sessions and office hours are also held to give competitors extra help along the way.
Competitors are required to find volunteers to play their witnesses (two witnesses per team). It is also the competitors' responsibility to prep their witnesses and ensure they know where to be on the day of the competition. Witnesses cannot be other competitors or Board members. (Note: volunteering to be a witness in the fall Upper-Level Competition is a great opportunity for 1L students to learn about prepping witnesses and what to expect in the First-Year Competition).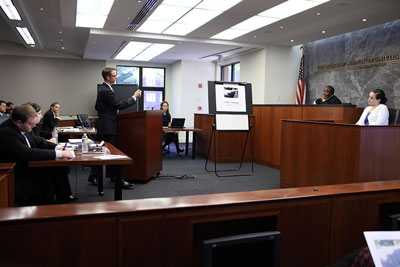 Competitors are judged by local practitioners, professors, other legal professionals, and Board members. The competition runs all day and offers for membership go out to those students who display exemplary trial skills and professionalism. The best competitors advance to compete in semi-finals rounds and one final round of the competition, and one outstanding competitor receives an award for Best Advocate.